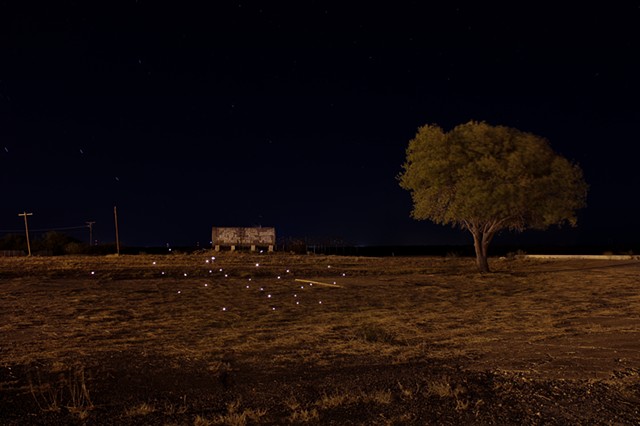 Maboroshi no Hikari (Swimming Pool, Crystal City "Family Internment" Camp)
Digital Photograph
October 2020
In 1944, my grandparents were able to secure transfers to the Crystal City "Family Internment Camp," which was an American concentration camp operated by the INS. In addition to Japanese American prisoners, the Crystal City American concentration camp held prisoners of Japanese descent from Latin America, and prisoners from Germany and Italy as well as their American-born children.
My obaachan, father and aunt were transferred from the Minidoka American concentration camp in Idaho, and ojiichan was transferred from the Santa Fe U.S. Army detention facility. He had been transferred to Santa Fe following what we believe was a yearlong stint at Camp Lordsburg. They were reunited in Crystal City, Texas for the first time since ojiichan's arrest in Seattle two years earlier.
One of my father's memories of Crystal City is of the makeshift swimming pool that the German and Japanese incarcerees created out of an irrigation reservoir.
A report written by the camp's head of operations, James O'Rourke explains that the pool was built by first clearing away water hyacinth, then lining the reservoir with concrete.
Many of the people who were unlawfully imprisoned in these camps came from cooler climates on the west coast. Swimming and fishing offered respite from the excessive heat of the desert and a number of drowning deaths occurred throughout the camps.
My father describes a drowning which he remembers in vague details: a young girl holds onto a rope that divides the wading end from the deep end, then she loses her grip and she is gone.
Records and oral histories indicate that two Japanese Peruvian girls, Aiko Oykawa, 11 and Sachiko Taname, 13 drowned that day: August 15, 1944.
This photograph shows the former swimming pool, now filled in. A tree grows at the edge of the deep end. This image was made on October 20, 2020. It is a single, long exposure; I create the small lights using a flashlight.
The term "maboroshi no hikari" means "phantom lights" and is related to a metaphor in a short story of the same name by Teru Miyamoto, in which a shimmering light on the water lures people into the perilous sea.


Zavala County, TX is on Coahuiltecan, and Carrizo land.
Click on the upper right corner to enlarge.