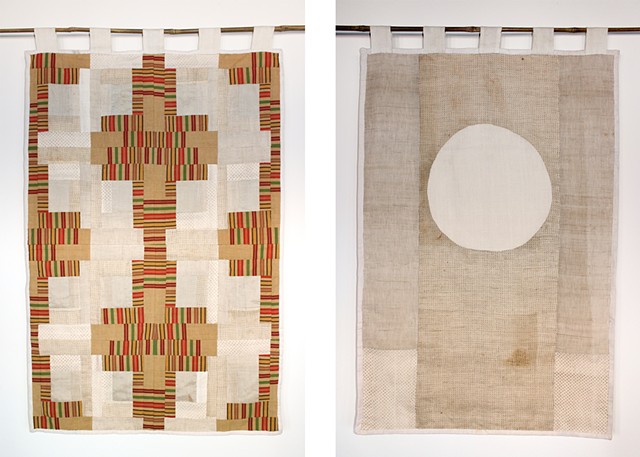 Untitled (or Two Killings, One Witness: Camp Lordsburg, New Mexico, July 27 1942)
Vintage Japanese hemp, linen and cotton, hand-pieced and hand-appliquéd
36"x 24" approximately, front and back shown in this image
2020
When the United States entered the war with Japan In 1941, my ojiichan was living in Seattle with my obaachan, and their two young children (my father and my aunt). My ojiichan had immigrated as a missionary and was the minister of the Seattle Tenrikyo Church. Because he was a minister and therefore considered to be a community leader, he was arrested by the FBI before the rest of my family were sent to the American concentration camps. We are not sure what happened to him immediately following his arrest. The only records that I know of show that he arrived at Camp Lordsburg in New Mexico in the summer of 1942, and that he relinquished $22.74 upon his arrival.
Camp Lordsburg was a U.S. Army Internment Camp for men. It operated under a different authority from that of the War Relocation Authority American concentration camps like Minidoka in Idaho to which my obaachan, father and aunt were sent under Executive Order 9066. Camp Lordsburg was run by Colonel Clyde Lundy who, in his tenure there, established a reputation for violating the Geneva Convention.
Typically prisoners were moved to the camp under cover of night. The prisoners were brought to the area by train, then armed guards marched them the remaining 3 miles to the camp which was located outside of town. On the night that my ojiichan arrived, June 28, 1942, there was a full moon.
On July 27, 1942, one month after my ojiichan arrived, the Lordsburg prisoners had been locked in their barracks for several days because they had been on strike, protesting violations of the Geneva Convention. Under the full moon that night came another train with a group of 147 prisoners. Two of those prisoners Toshiro Kobata and Hirota Isomura were in poor health and had difficulty walking. According to some testimony, they fell behind the rest of the group and the officer at the rear of the line said they tried to escape and he shot both of them. Kobata is said to have died at the scene and Isomura by daybreak.
The officer was put on trial for murder. In spite of the autopsy report and evidence that contradicted the officer's testimony, he was acquitted on a reduced charge of manslaughter and hailed as a hero by locals.
My ojiichan never spoke about his time at Lordsburg. He died in 1986. I only know that he was there when Kobata and Isomura were killed; that he would likely have been locked in his sweltering barracks that night; that he might have been woken by the sound of the shots.
Court testimonies tell us that the sky was clear that night and the Moon was bright: that both men were lying on their backs where they fell. I wonder if Kobata and Isomura looked up at the full moon where they lay.
The fabric in this work is recycled vintage fabric from men's yukata and obi. It is the type of fabric that would be worn in Japan during the hottest months of the year. I purchased it at temple markets in and around Tokyo in the summer of 2019. The work is sewn by hand.
Lordsburg, NM is located on traditional Chiricahua Apache land. New Mexico is home to 23 indigenous sovereign nations.
Click on the upper right corner to enlarge.