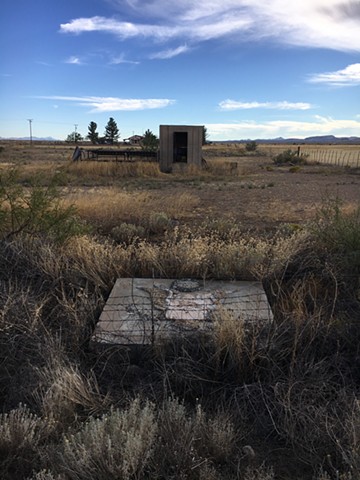 Scouting Locations: Prisoner Artwork (American Eagle Mosaic) Camp Lordsburg, New Mexico
October 28, 2020
While exploring Lordsburg, this mosaic stands out as a reminder of the role that art making played in the lives of the men who were imprisoned here. It is made of scavenged stones and concrete.
During their imprisonment the Japanese men were invited by the local YMCA to put on an ikebana demonstration for the local middle school children. They did so using local desert plants and scrap wood. The children were cautioned not to talk to the men.
In spite of suffering ongoing abuses and indignities in Camp Lordsburg, the men who were imprisoned there also found that they had time on their hands. In an effort to stay productive and to take their minds off of their worries, they made art, theater and played sports. Poetry was also very popular in all of the camps:
I am carving the wood slowly,
At the veranda in a faint ray of sunlight on a quiet afternoon
I am 50 years old.
Suirin Yoshizumi, from The Lordsburg Times issue 116