Kiss Me, I'm Brownish, or An Invitation, a Declaration, and a Warning, (Beige on Brown) is part of a series. This series examines the practice of identity declaration. How do we use quotidian opportunities to make assertions about our identities? Which identities are asserted and celebrated ("Kiss me, I'm Irish/Italian/Polish/Vegan"), and which are not?
How does ambiguous perception of race affect the experience of people of color? Who does the perceiving and what is being perceived?
T-shirts are available for pre-sale. Contact the artist for information.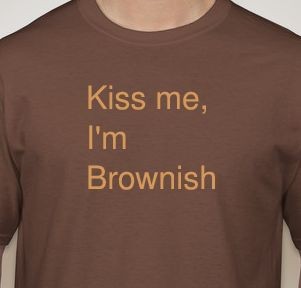 Kiss Me, I'm Brownish, or an Invitation, a Declaration, and a Warning (Beige on Brown)
The Tertium Quid Project
Silk Screen on Cotton T-Shirt
Variable
2014